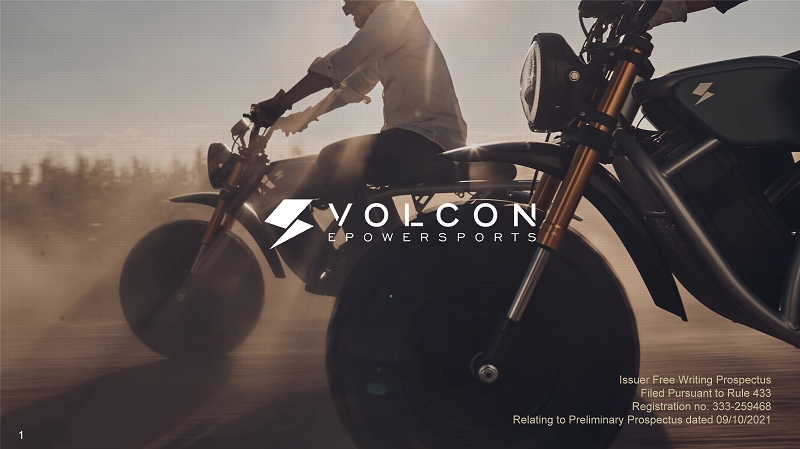 1 Issuer Free Writing Prospectus Filed Pursuant to Rule 433 Registration no. 333 - 259468 Relating to Preliminary Prospectus dated 09/10/2021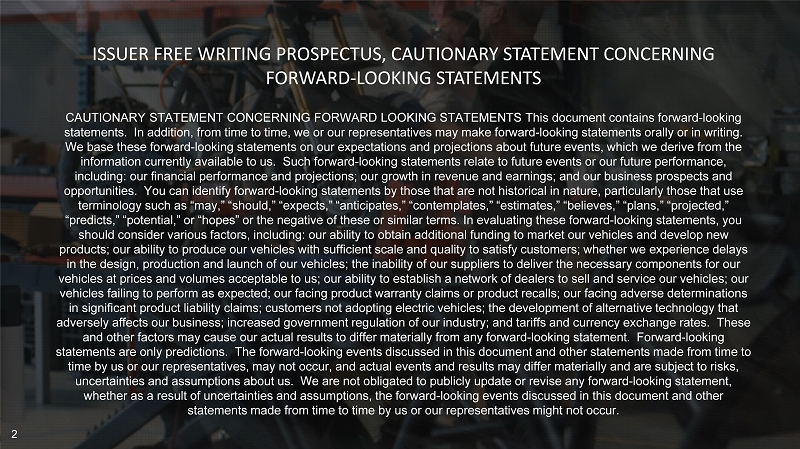 ISSUER FREE WRITING PROSPECTUS, CAUTIONARY STATEMENT CONCERNING FORWARD - LOOKING STATEMENTS CAUTIONARY STATEMENT CONCERNING FORWARD LOOKING STATEMENTS This document contains forward - looking statements. In addition, from time to time, we or our representatives may make forward - looking statements orally or in writing. We base these forward - looking statements on our expectations and projections about future events, which we derive from the information currently available to us. Such forward - looking statements relate to future events or our future performance, including: our financial performance and projections; our growth in revenue and earnings; and our business prospects and opportunities. You can identify forward - looking statements by those that are not historical in nature, particularly those that use terminology such as "may," "should," "expects," "anticipates," "contemplates," "estimates," "believes," "plans," "projected," "predicts," "potential," or "hopes" or the negative of these or similar terms. In evaluating these forward - looking statements, y ou should consider various factors, including: our ability to obtain additional funding to market our vehicles and develop new products; our ability to produce our vehicles with sufficient scale and quality to satisfy customers; whether we experience d ela ys in the design, production and launch of our vehicles; the inability of our suppliers to deliver the necessary components for our vehicles at prices and volumes acceptable to us; our ability to establish a network of dealers to sell and service our vehicl es; our vehicles failing to perform as expected; our facing product warranty claims or product recalls; our facing adverse determinat ion s in significant product liability claims; customers not adopting electric vehicles; the development of alternative technology tha t adversely affects our business; increased government regulation of our industry; and tariffs and currency exchange rates. Th ese and other factors may cause our actual results to differ materially from any forward - looking statement. Forward - looking statements are only predictions. The forward - looking events discussed in this document and other statements made from time to time by us or our representatives, may not occur, and actual events and results may differ materially and are subject to risk s, uncertainties and assumptions about us. We are not obligated to publicly update or revise any forward - looking statement, whether as a result of uncertainties and assumptions, the forward - looking events discussed in this document and other statements made from time to time by us or our representatives might not occur. 2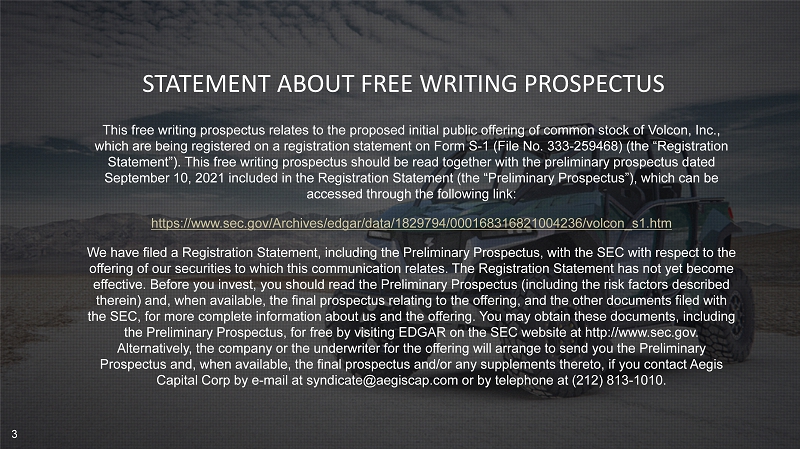 STATEMENT ABOUT FREE WRITING PROSPECTUS This free writing prospectus relates to the proposed initial public offering of common stock of Volcon, Inc., which are being registered on a registration statement on Form S - 1 (File No. 333 - 259468) (the "Registration Statement"). This free writing prospectus should be read together with the preliminary prospectus dated September 10, 2021 included in the Registration Statement (the "Preliminary Prospectus"), which can be accessed through the following link: https://www.sec.gov/Archives/edgar/data/1829794/000168316821004236/volcon_s1.htm We have filed a Registration Statement, including the Preliminary Prospectus, with the SEC with respect to the offering of our securities to which this communication relates. The Registration Statement has not yet become effective. Before you invest, you should read the Preliminary Prospectus (including the risk factors described therein) and, when available, the final prospectus relating to the offering, and the other documents filed with the SEC, for more complete information about us and the offering. You may obtain these documents, including the Preliminary Prospectus, for free by visiting EDGAR on the SEC website at http://www.sec.gov. Alternatively, the company or the underwriter for the offering will arrange to send you the Preliminary Prospectus and, when available, the final prospectus and/or any supplements thereto, if you contact Aegis Capital Corp by e - mail at syndicate@aegiscap.com or by telephone at (212) 813 - 1010. 3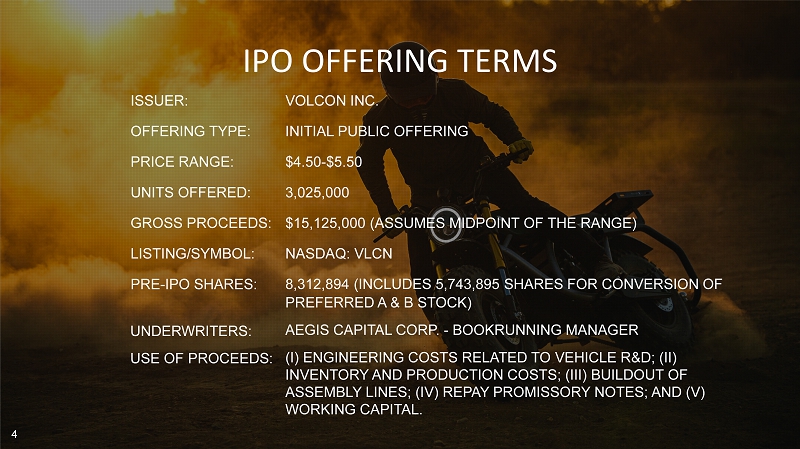 IPO OFFERING TERMS ISSUER: OFFERING TYPE: PRICE RANGE: UNITS OFFERED: GROSS PROCEEDS: LISTING/SYMBOL: PRE - IPO SHARES: 4 VOLCON INC. INITIAL PUBLIC OFFERING $4.50 - $5.50 3,025,000 $15,125,000 (ASSUMES MIDPOINT OF THE RANGE) NASDAQ: VLCN 8,312,894 (INCLUDES 5,743,895 SHARES FOR CONVERSION OF PREFERRED A & B STOCK) AEGIS CAPITAL CORP. - BOOKRUNNING MANAGER (I) ENGINEERING COSTS RELATED TO VEHICLE R&D; (II) INVENTORY AND PRODUCTION COSTS; (III) BUILDOUT OF ASSEMBLY LINES; (IV) REPAY PROMISSORY NOTES; AND (V) WORKING CAPITAL. UNDERWRITERS: USE OF PROCEEDS: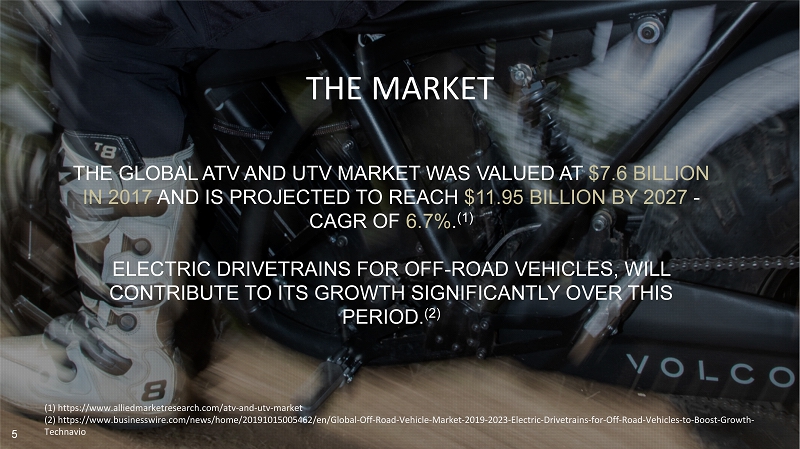 THE GLOBAL ATV AND UTV MARKET WAS VALUED AT $7.6 BILLION IN 2017 AND IS PROJECTED TO REACH $11.95 BILLION BY 2027 - CAGR OF 6.7% . (1) ELECTRIC DRIVETRAINS FOR OFF - ROAD VEHICLES, WILL CONTRIBUTE TO ITS GROWTH SIGNIFICANTLY OVER THIS PERIOD. (2) THE MARKET 5 (1) https://www.alliedmarketresearch.com/atv - and - utv - market (2) https://www.businesswire.com/news/home/20191015005462/en/Global - Off - Road - Vehicle - Market - 2019 - 2023 - Electric - Drivetrains - for - O ff - Road - Vehicles - to - Boost - Growth - Technavio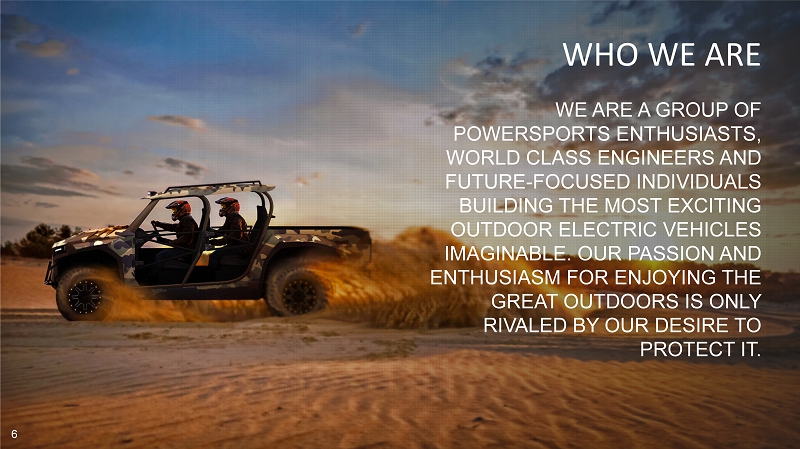 WHO WE ARE WE ARE A GROUP OF POWERSPORTS ENTHUSIASTS, WORLD CLASS ENGINEERS AND FUTURE - FOCUSED INDIVIDUALS BUILDING THE MOST EXCITING OUTDOOR ELECTRIC VEHICLES IMAGINABLE. OUR PASSION AND ENTHUSIASM FOR ENJOYING THE GREAT OUTDOORS IS ONLY RIVALED BY OUR DESIRE TO PROTECT IT. 6
7 TO BE THE WORLD'S LEADING MANUFACTURER OF OFF - ROAD ELECTRIC VEHICLES THAT ENHANCE THE OUTDOOR EXPERIENCE FOR BOTH THE EVERYDAY WORK ENVIRONMENT AND THE ADVENTURE SEEKER. 7 OUR MISSION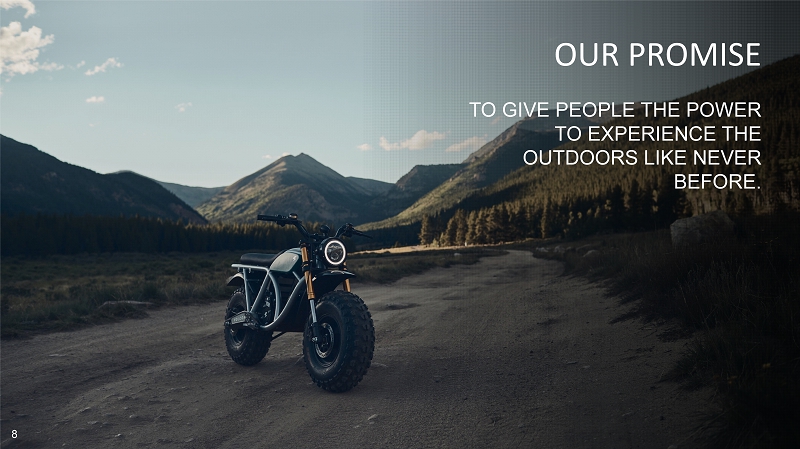 8 OUR PROMISE TO GIVE PEOPLE THE POWER TO EXPERIENCE THE OUTDOORS LIKE NEVER BEFORE. 8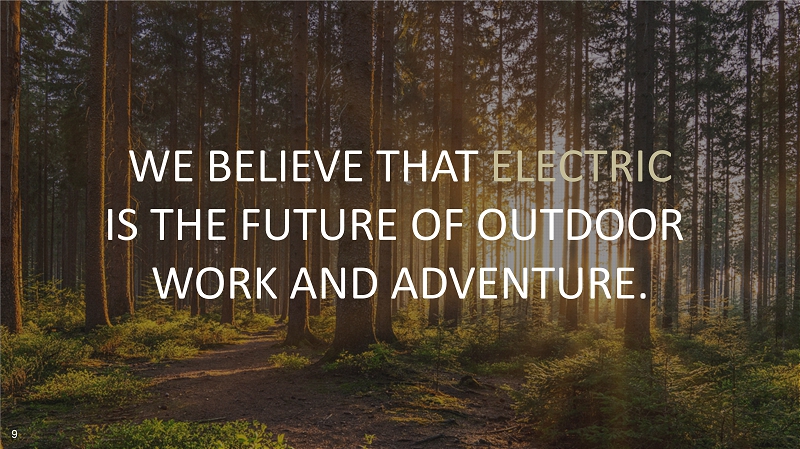 WE BELIEVE THAT ELECTRIC IS THE FUTURE OF OUTDOOR WORK AND ADVENTURE. 9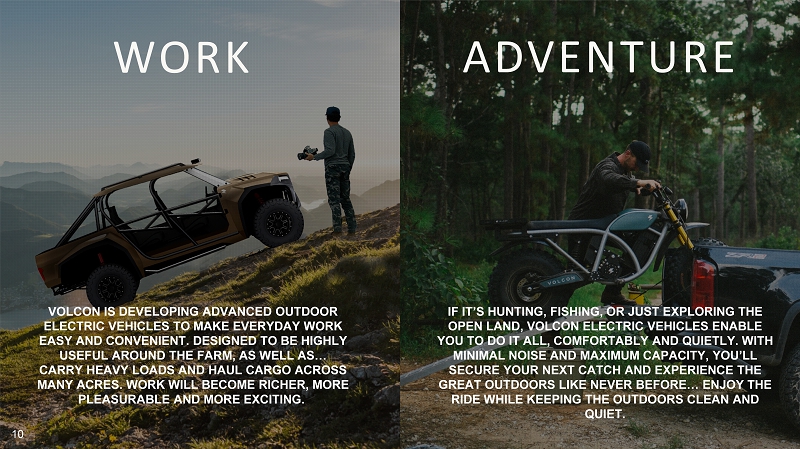 WORK ADVENTURE VOLCON IS DEVELOPING ADVANCED OUTDOOR ELECTRIC VEHICLES TO MAKE EVERYDAY WORK EASY AND CONVENIENT. DESIGNED TO BE HIGHLY USEFUL AROUND THE FARM, AS WELL AS… CARRY HEAVY LOADS AND HAUL CARGO ACROSS MANY ACRES. WORK WILL BECOME RICHER, MORE PLEASURABLE AND MORE EXCITING. IF IT'S HUNTING, FISHING, OR JUST EXPLORING THE OPEN LAND, VOLCON ELECTRIC VEHICLES ENABLE YOU TO DO IT ALL, COMFORTABLY AND QUIETLY. WITH MINIMAL NOISE AND MAXIMUM CAPACITY, YOU'LL SECURE YOUR NEXT CATCH AND EXPERIENCE THE GREAT OUTDOORS LIKE NEVER BEFORE… ENJOY THE RIDE WHILE KEEPING THE OUTDOORS CLEAN AND QUIET. 10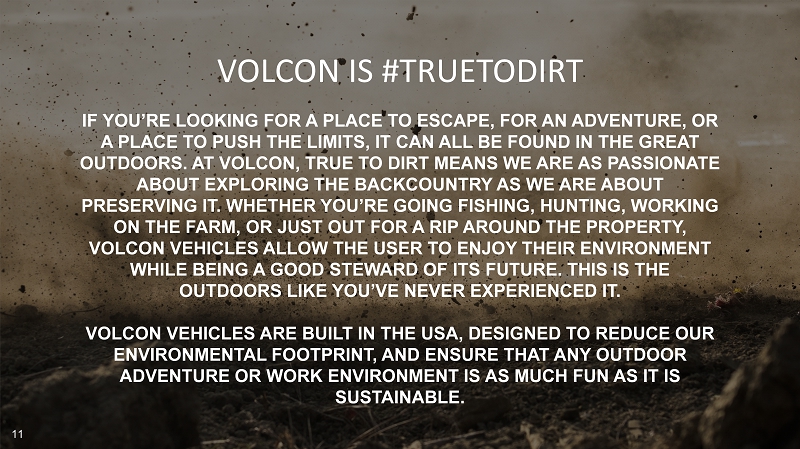 IF YOU'RE LOOKING FOR A PLACE TO ESCAPE, FOR AN ADVENTURE, OR A PLACE TO PUSH THE LIMITS, IT CAN ALL BE FOUND IN THE GREAT OUTDOORS. AT VOLCON, TRUE TO DIRT MEANS WE ARE AS PASSIONATE ABOUT EXPLORING THE BACKCOUNTRY AS WE ARE ABOUT PRESERVING IT. WHETHER YOU'RE GOING FISHING, HUNTING, WORKING ON THE FARM, OR JUST OUT FOR A RIP AROUND THE PROPERTY, VOLCON VEHICLES ALLOW THE USER TO ENJOY THEIR ENVIRONMENT WHILE BEING A GOOD STEWARD OF ITS FUTURE. THIS IS THE OUTDOORS LIKE YOU'VE NEVER EXPERIENCED IT. VOLCON VEHICLES ARE BUILT IN THE USA, DESIGNED TO REDUCE OUR ENVIRONMENTAL FOOTPRINT, AND ENSURE THAT ANY OUTDOOR ADVENTURE OR WORK ENVIRONMENT IS AS MUCH FUN AS IT IS SUSTAINABLE. VOLCON IS #TRUETODIRT 11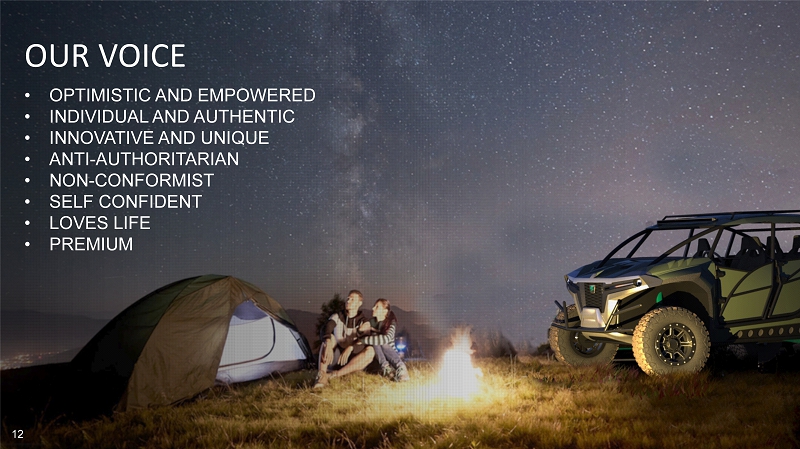 OUR VOICE • OPTIMISTIC AND EMPOWERED • INDIVIDUAL AND AUTHENTIC • INNOVATIVE AND UNIQUE • ANTI - AUTHORITARIAN • NON - CONFORMIST • SELF CONFIDENT • LOVES LIFE • PREMIUM 12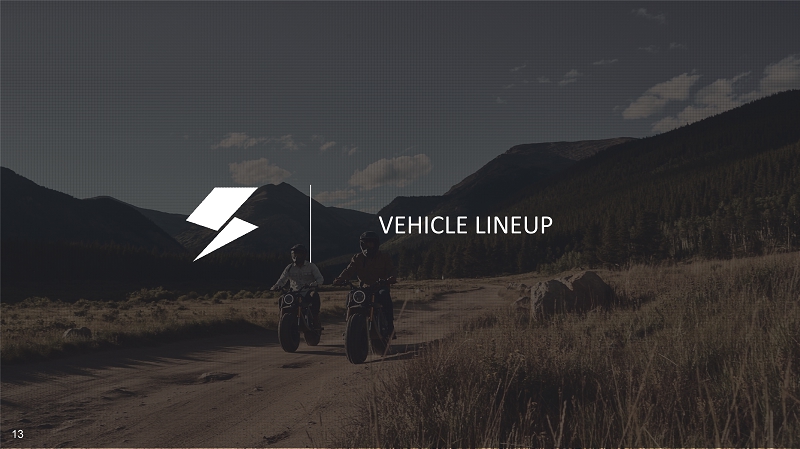 VEHICLE LINEUP 13
FEAR NO TRAIL THE GRUNT WHEELBASE: 54" SEAT HEIGHT: 33" RANGE: UP TO 70 MILES (XTRA BATTERY) HIGH TORQUE MOTOR BATTERY: 2kW, 2kW + 2kW WATER RESISTANT DRIVE TRAIN ADJUSTABLE SUSPENSION AVAILABLE NOW 14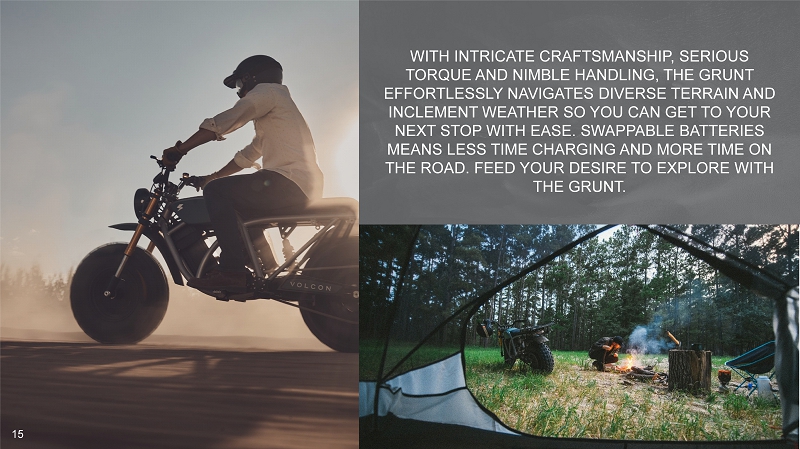 WITH INTRICATE CRAFTSMANSHIP, SERIOUS TORQUE AND NIMBLE HANDLING, THE GRUNT EFFORTLESSLY NAVIGATES DIVERSE TERRAIN AND INCLEMENT WEATHER SO YOU CAN GET TO YOUR NEXT STOP WITH EASE. SWAPPABLE BATTERIES MEANS LESS TIME CHARGING AND MORE TIME ON THE ROAD. FEED YOUR DESIRE TO EXPLORE WITH THE GRUNT. 15 15
OFF - ROAD FUN FOR THE LITTLE ONE THE RUNT WHEELBASE: 42" SEAT HEIGHT: 27" RANGE: UP TO 35 MILES HIGH TORQUE MOTOR BATTERY: 800W, 2kW WATER RESISTANT HUB MOTOR ADJUSTABLE SUSPENSION AVAILABLE Q1 2022* * TIMELINES ARE SUBJECT TO FUTURE FINANCINGS 16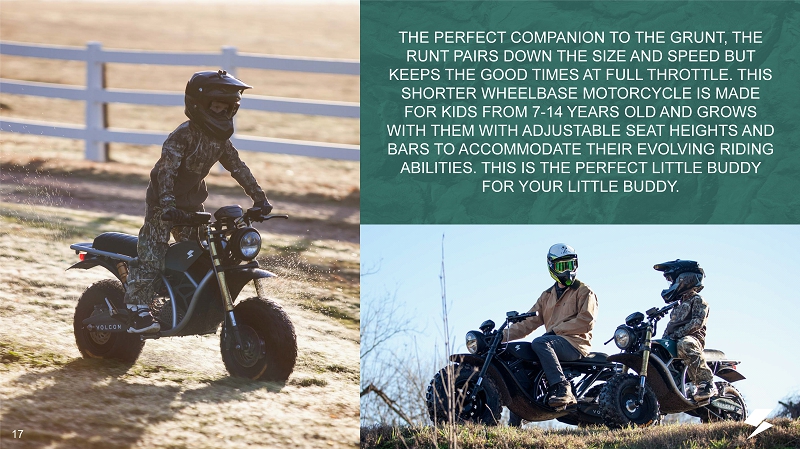 THE PERFECT COMPANION TO THE GRUNT, THE RUNT PAIRS DOWN THE SIZE AND SPEED BUT KEEPS THE GOOD TIMES AT FULL THROTTLE. THIS SHORTER WHEELBASE MOTORCYCLE IS MADE FOR KIDS FROM 7 - 14 YEARS OLD AND GROWS WITH THEM WITH ADJUSTABLE SEAT HEIGHTS AND BARS TO ACCOMMODATE THEIR EVOLVING RIDING ABILITIES. THIS IS THE PERFECT LITTLE BUDDY FOR YOUR LITTLE BUDDY. 17 17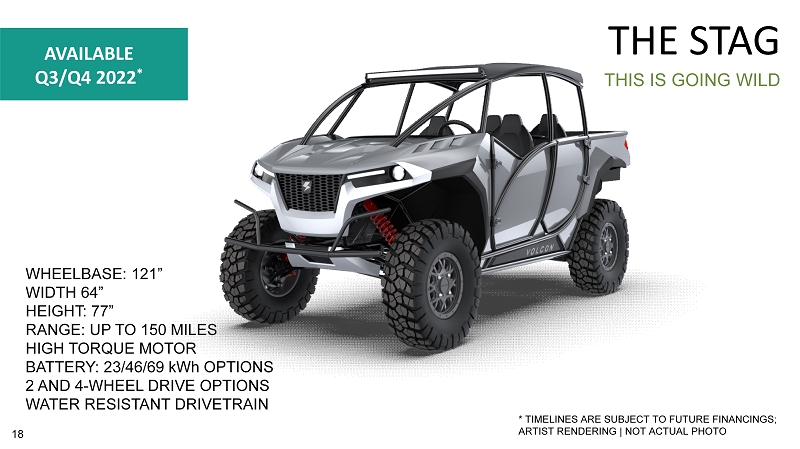 THIS IS GOING WILD THE STAG WHEELBASE: 121" WIDTH 64" HEIGHT: 77" RANGE: UP TO 150 MILES HIGH TORQUE MOTOR BATTERY: 23/46/69 kWh OPTIONS 2 AND 4 - WHEEL DRIVE OPTIONS WATER RESISTANT DRIVETRAIN AVAILABLE Q3/Q4 2022 * * TIMELINES ARE SUBJECT TO FUTURE FINANCINGS; ARTIST RENDERING | NOT ACTUAL PHOTO 18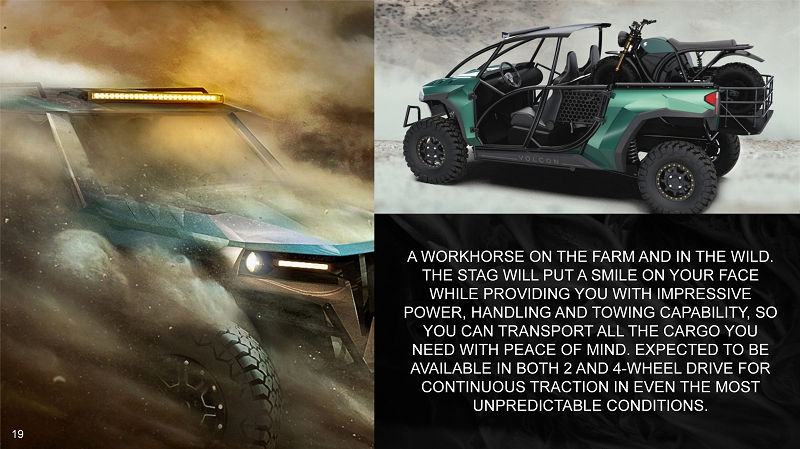 A WORKHORSE ON THE FARM AND IN THE WILD. THE STAG WILL PUT A SMILE ON YOUR FACE WHILE PROVIDING YOU WITH IMPRESSIVE POWER, HANDLING AND TOWING CAPABILITY, SO YOU CAN TRANSPORT ALL THE CARGO YOU NEED WITH PEACE OF MIND. EXPECTED TO BE AVAILABLE IN BOTH 2 AND 4 - WHEEL DRIVE FOR CONTINUOUS TRACTION IN EVEN THE MOST UNPREDICTABLE CONDITIONS. 19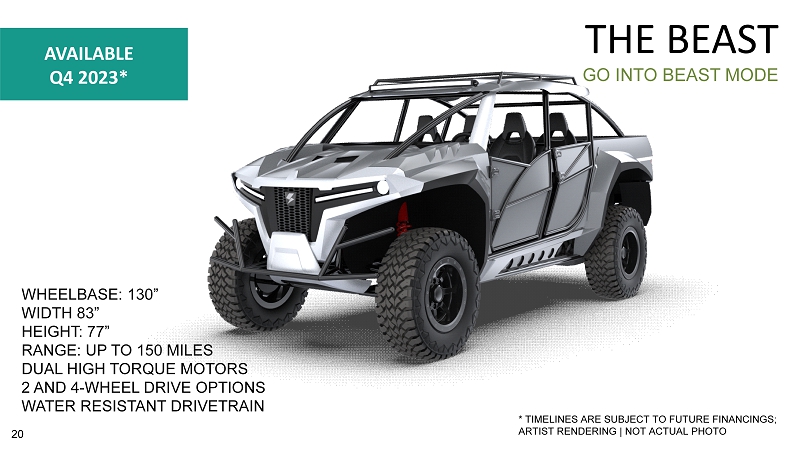 GO INTO BEAST MODE THE BEAST WHEELBASE: 130" WIDTH 83" HEIGHT: 77" RANGE: UP TO 150 MILES DUAL HIGH TORQUE MOTORS 2 AND 4 - WHEEL DRIVE OPTIONS WATER RESISTANT DRIVETRAIN AVAILABLE Q4 2023* 20 * TIMELINES ARE SUBJECT TO FUTURE FINANCINGS; ARTIST RENDERING | NOT ACTUAL PHOTO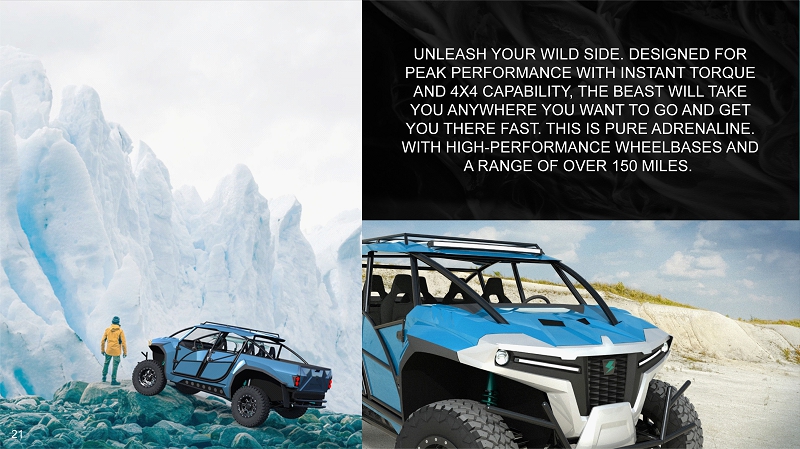 UNLEASH YOUR WILD SIDE. DESIGNED FOR PEAK PERFORMANCE WITH INSTANT TORQUE AND 4X4 CAPABILITY, THE BEAST WILL TAKE YOU ANYWHERE YOU WANT TO GO AND GET YOU THERE FAST. THIS IS PURE ADRENALINE. WITH HIGH - PERFORMANCE WHEELBASES AND A RANGE OF OVER 150 MILES. 21 21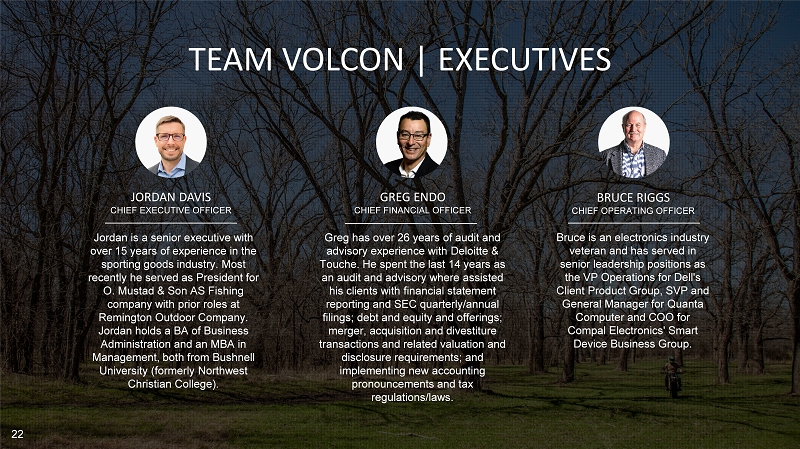 22 TEAM VOLCON | EXECUTIVES 22 JORDAN DAVIS CHIEF EXECUTIVE OFFICER Jordan is a senior executive with over 15 years of experience in the sporting goods industry. Most recently he served as President for O. Mustad & Son AS Fishing company with prior roles at Remington Outdoor Company. Jordan holds a BA of Business Administration and an MBA in Management, both from Bushnell University (formerly Northwest Christian College). GREG ENDO CHIEF FINANCIAL OFFICER Greg has over 26 years of audit and advisory experience with Deloitte & Touche . He spent the last 14 years as an audit and advisory where assisted his clients with financial statement reporting and SEC quarterly/annual filings; debt and equity and offerings; merger, acquisition and divestiture transactions and related valuation and disclosure requirements; and implementing new accounting pronouncements and tax regulations/laws. BRUCE RIGGS CHIEF OPERATING OFFICER Bruce is an electronics industry veteran and has served in senior leadership positions as the VP Operations for Dell's Client Product Group, SVP and General Manager for Quanta Computer and COO for Compal Electronics' Smart Device Business Group.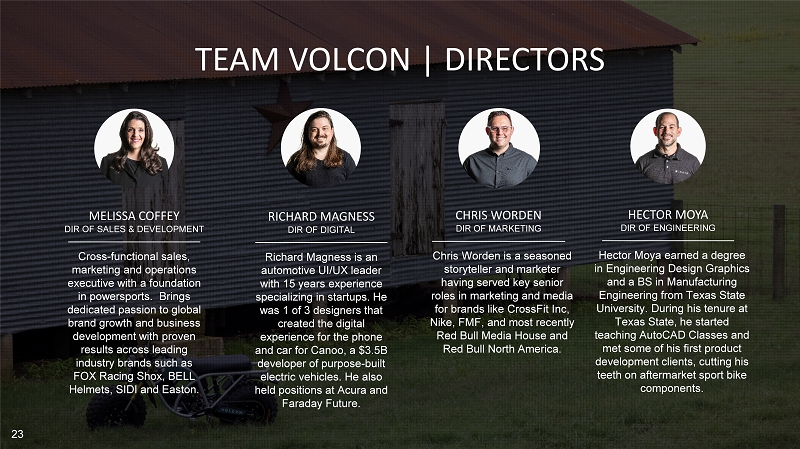 23 23 MELISSA COFFEY DIR OF SALES & DEVELOPMENT Cross - functional sales, marketing and operations executive with a foundation in powersports. Brings dedicated passion to global brand growth and business development with proven results across leading industry brands such as FOX Racing Shox , BELL Helmets, SIDI and Easton. TEAM VOLCON | DIRECTORS RICHARD MAGNESS DIR OF DIGITAL Richard Magness is an automotive UI/UX leader with 15 years experience specializing in startups. He was 1 of 3 designers that created the digital experience for the phone and car for Canoo , a $3.5B developer of purpose - built electric vehicles. He also held positions at Acura and Faraday Future. CHRIS WORDEN DIR OF MARKETING Chris Worden is a seasoned storyteller and marketer having served key senior roles in marketing and media for brands like CrossFit Inc, Nike, FMF, and most recently Red Bull Media House and Red Bull North America. HECTOR MOYA DIR OF ENGINEERING Hector Moya earned a degree in Engineering Design Graphics and a BS in Manufacturing Engineering from Texas State University. During his tenure at Texas State, he started teaching AutoCAD Classes and met some of his first product development clients, cutting his teeth on aftermarket sport bike components.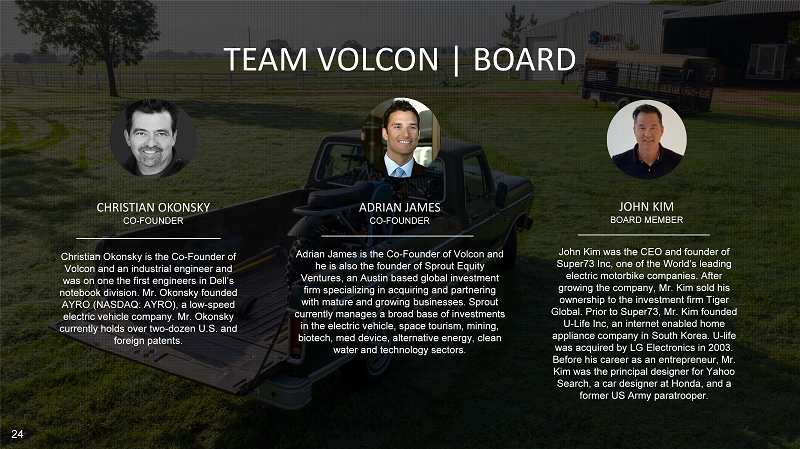 24 24 TEAM VOLCON | BOARD CHRISTIAN OKONSKY CO - FOUNDER Christian Okonsky is the Co - Founder of Volcon and an industrial engineer and was on one the first engineers in Dell's notebook division. Mr. Okonsky founded AYRO (NASDAQ: AYRO), a low - speed electric vehicle company. Mr. Okonsky currently holds over two - dozen U.S. and foreign patents. ADRIAN JAMES CO - FOUNDER Adrian James is the Co - Founder of Volcon and he is also the founder of Sprout Equity Ventures, an Austin based global investment firm specializing in acquiring and partnering with mature and growing businesses. Sprout currently manages a broad base of investments in the electric vehicle, space tourism, mining, biotech, med device, alternative energy, clean water and technology sectors. JOHN KIM BOARD MEMBER John Kim was the CEO and founder of Super73 Inc, one of the World's leading electric motorbike companies. After growing the company, Mr. Kim sold his ownership to the investment firm Tiger Global. Prior to Super73, Mr. Kim founded U - Life Inc, an internet enabled home appliance company in South Korea. U - life was acquired by LG Electronics in 2003. Before his career as an entrepreneur, Mr. Kim was the principal designer for Yahoo Search, a car designer at Honda, and a former US Army paratrooper.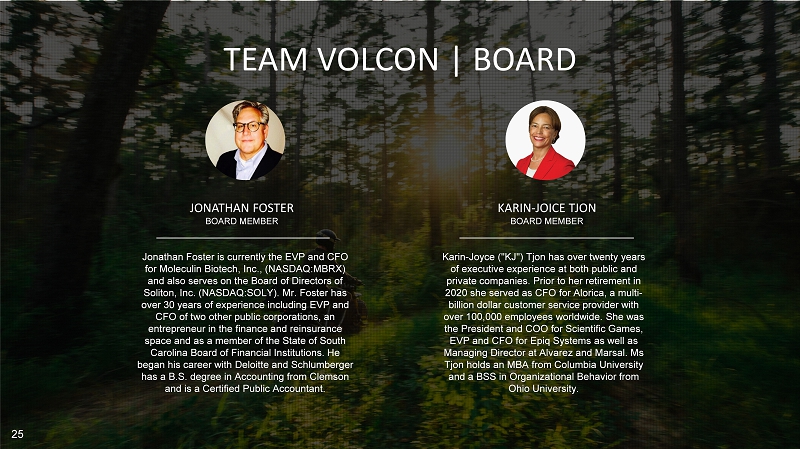 25 25 TEAM VOLCON | BOARD KARIN - JOICE TJON BOARD MEMBER Karin - Joyce ("KJ") Tjon has over twenty years of executive experience at both public and private companies. Prior to her retirement in 2020 she served as CFO for Alorica, a multi - billion dollar customer service provider with over 100,000 employees worldwide. She was the President and COO for Scientific Games, EVP and CFO for Epiq Systems as well as Managing Director at Alvarez and Marsal. Ms Tjon holds an MBA from Columbia University and a BSS in Organizational Behavior from Ohio University. JONATHAN FOSTER BOARD MEMBER Jonathan Foster is currently the EVP and CFO for Moleculin Biotech, Inc., (NASDAQ:MBRX) and also serves on the Board of Directors of Soliton, Inc. (NASDAQ:SOLY). Mr. Foster has over 30 years of experience including EVP and CFO of two other public corporations, an entrepreneur in the finance and reinsurance space and as a member of the State of South Carolina Board of Financial Institutions. He began his career with Deloitte and Schlumberger has a B.S. degree in Accounting from Clemson and is a Certified Public Accountant.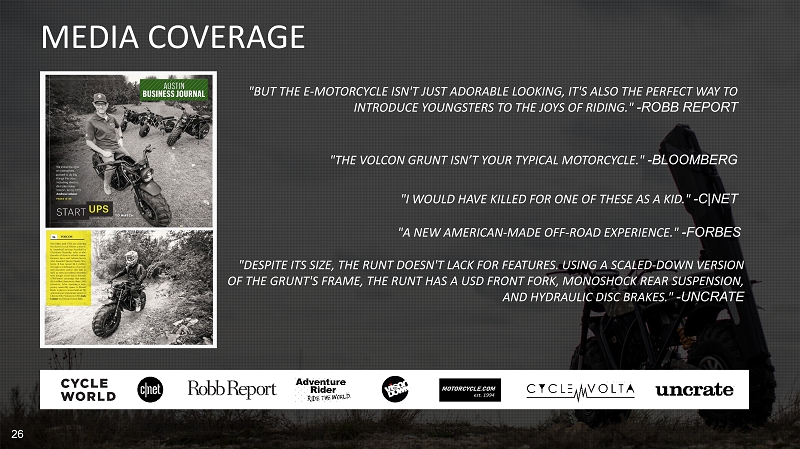 "BUT THE E - MOTORCYCLE ISN'T JUST ADORABLE LOOKING, IT'S ALSO THE PERFECT WAY TO INTRODUCE YOUNGSTERS TO THE JOYS OF RIDING." - ROBB REPORT "I WOULD HAVE KILLED FOR ONE OF THESE AS A KID." - C|NET "A NEW AMERICAN - MADE OFF - ROAD EXPERIENCE." - FORBES "DESPITE ITS SIZE, THE RUNT DOESN'T LACK FOR FEATURES. USING A SCALED - DOWN VERSION OF THE GRUNT'S FRAME, THE RUNT HAS A USD FRONT FORK, MONOSHOCK REAR SUSPENSION, AND HYDRAULIC DISC BRAKES." - UNCRATE 26 MEDIA COVERAGE "THE VOLCON GRUNT ISN'T YOUR TYPICAL MOTORCYCLE." - BLOOMBERG
T MEDIA COVERAGE 32 MILLION+ MEDIA IMPRESSIONS 1,500+ EARNED MEDIA PLACEMENTS 27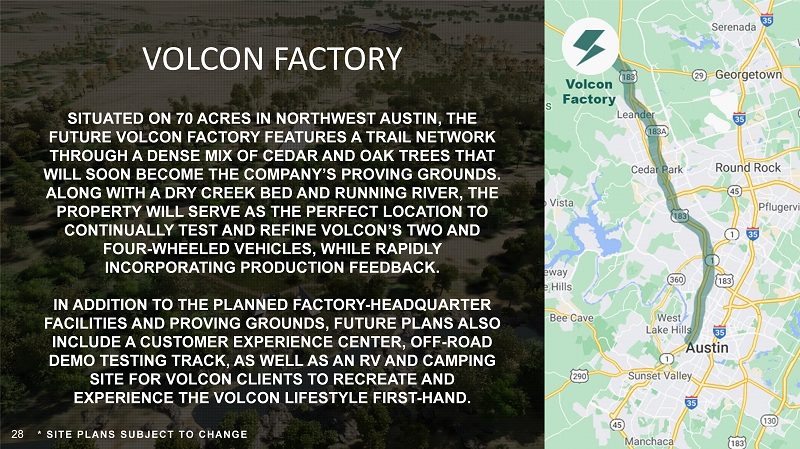 VOLCON FACTORY SITUATED ON 70 ACRES IN NORTHWEST AUSTIN, THE FUTURE VOLCON FACTORY FEATURES A TRAIL NETWORK THROUGH A DENSE MIX OF CEDAR AND OAK TREES THAT WILL SOON BECOME THE COMPANY'S PROVING GROUNDS. ALONG WITH A DRY CREEK BED AND RUNNING RIVER, THE PROPERTY WILL SERVE AS THE PERFECT LOCATION TO CONTINUALLY TEST AND REFINE VOLCON'S TWO AND FOUR - WHEELED VEHICLES, WHILE RAPIDLY INCORPORATING PRODUCTION FEEDBACK. IN ADDITION TO THE PLANNED FACTORY - HEADQUARTER FACILITIES AND PROVING GROUNDS, FUTURE PLANS ALSO INCLUDE A CUSTOMER EXPERIENCE CENTER, OFF - ROAD DEMO TESTING TRACK, AS WELL AS AN RV AND CAMPING SITE FOR VOLCON CLIENTS TO RECREATE AND EXPERIENCE THE VOLCON LIFESTYLE FIRST - HAND. 28 * SITE PLANS SUBJECT TO CHANGE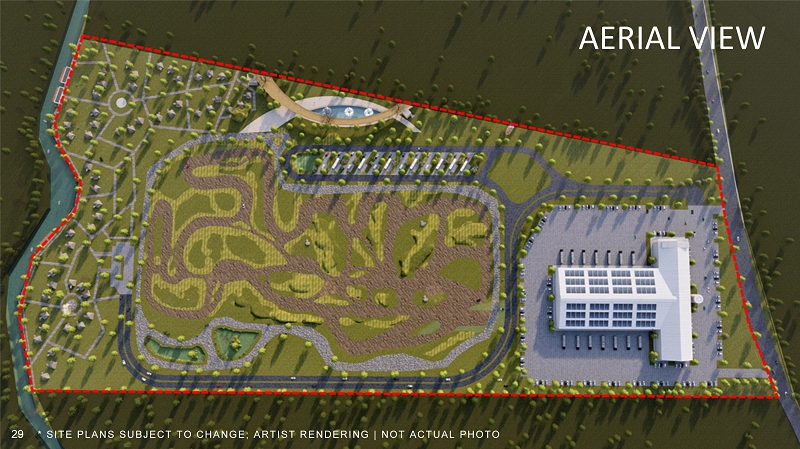 29 AERIAL VIEW * SITE PLANS SUBJECT TO CHANGE; ARTIST RENDERING | NOT ACTUAL PHOTO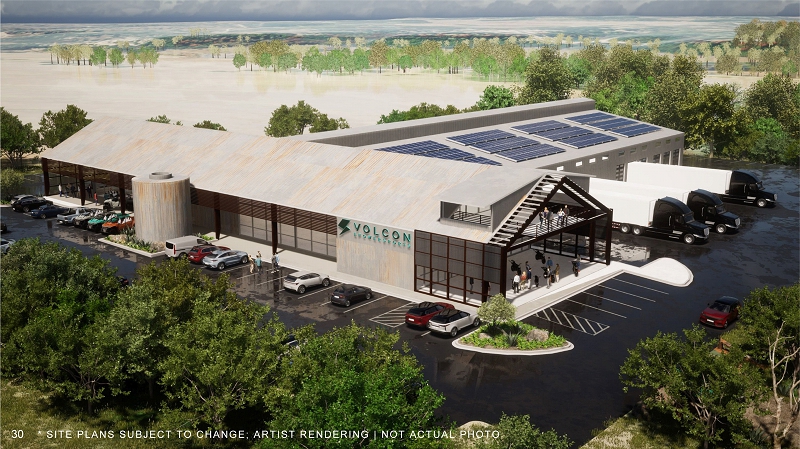 30 * SITE PLANS SUBJECT TO CHANGE; ARTIST RENDERING | NOT ACTUAL PHOTO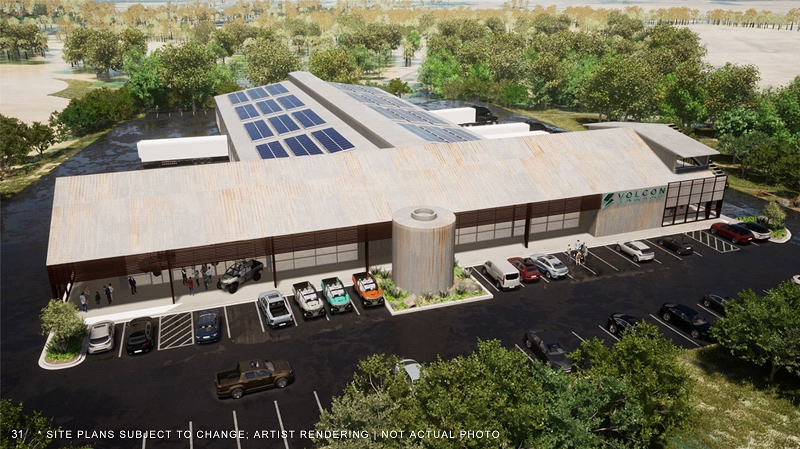 31 * SITE PLANS SUBJECT TO CHANGE; ARTIST RENDERING | NOT ACTUAL PHOTO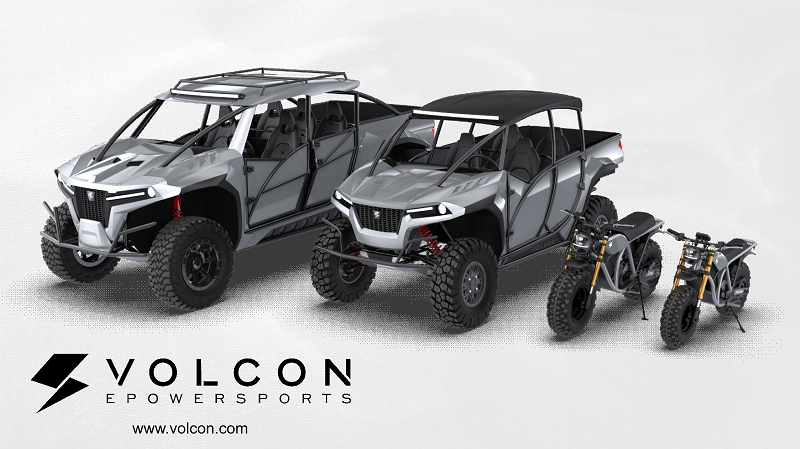 www.volcon.com