Volcon Demonstrates Electric Vehicles to Key DoD Staff, Enters Funded Operational Energy Program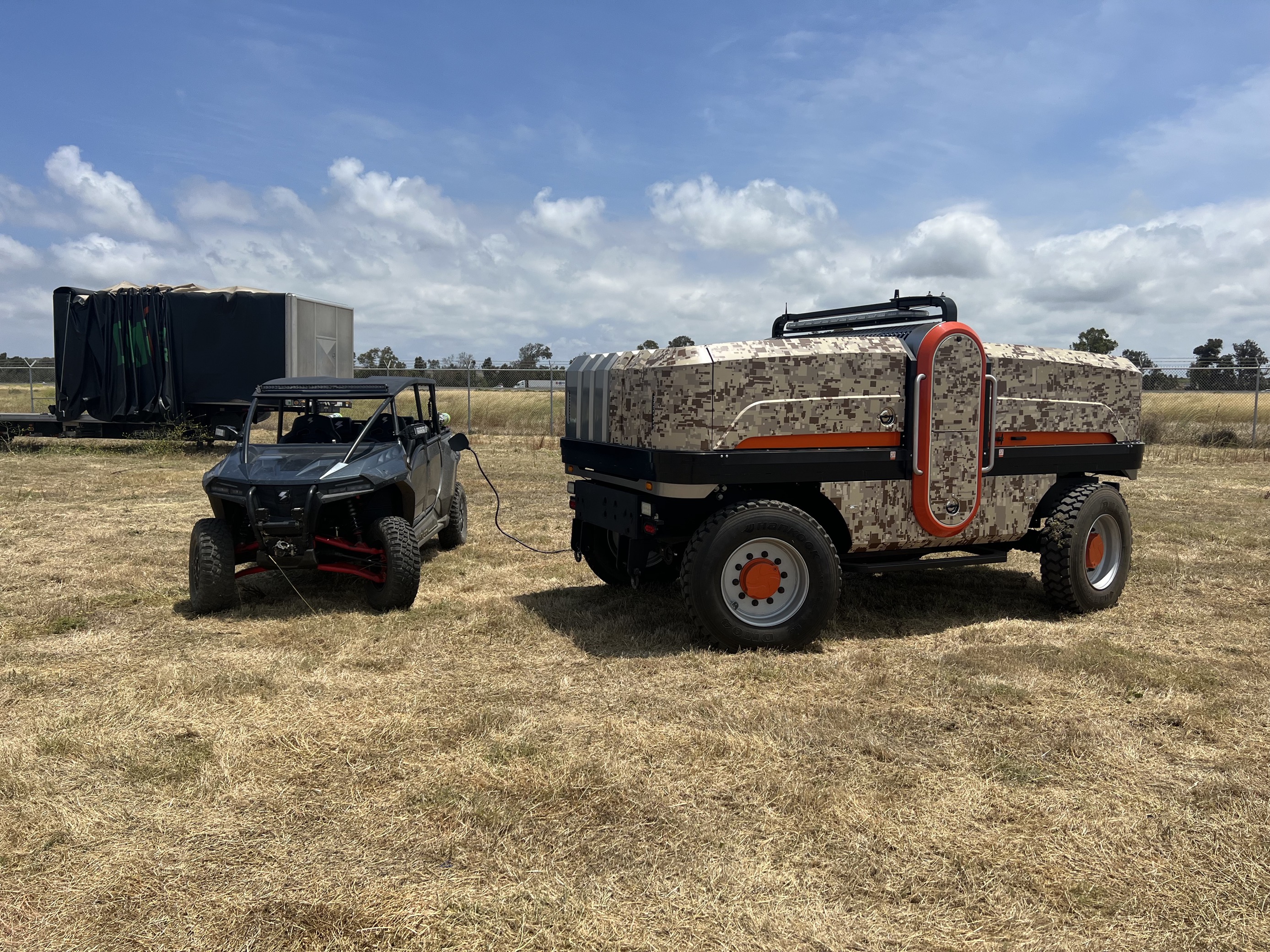 AUSTIN, Texas, July 05, 2023 (GLOBE NEWSWIRE) -- Volcon, Inc. (NASDAQ: VLCN) announced today that it provided key Department of Defense staff a demonstration of the all-electric Stag UTV and EVO motorcycles under the funded program Electric Tactical Humanitarian Operations Response, or eTHOR, hosted by the NavalX SoCal Tech Bridge at Marine Corps Tactical Systems Support Activity (MCTSSA), in Camp Pendleton, CA. This project was developed through the SoCal Tech Bridge's ongoing relationship with Naval Information Warfare Center - Pacific (NIWC-PAC) to provide government evaluation and engagement with new technologies and with CANA LLC, serving as lead system integrator while providing modeling, simulation and analysis, and strategic stakeholder engagement. Working with Amazon Web Services (AWS), a subsidiary of Amazon.com Inc., and other integrators, the purpose of the demonstration and assessment was to test eTHOR functionality within a variety of military vignettes. Volcon demonstrated Level 3 fast charging, silent overwatch, night reconnaissance, and the ability to charge their EVO off-road motorcycle from a modified Stag UTV to exhibit power exporting capabilities. Data gathered will be used for continued modeling, simulation, and analysis, creating digital environments that synthesize the results of innumerable types of experimentation. The demonstration and testing event supports validation that there is a real, tested, and expeditious transition path for commercial integrated electric vehicle technology into the military operating environment.

"Volcon is proud to not only help electrify the battlefield, but also increase the range of tools the DoD can access and at the expedited pace we see in the commercial space," mentioned Richard Tannery V.P. of Global Defense and Government Programs at Volcon. "We continue to show how capable we are to rapidly pivot toward the needs of our clients, which is instrumental for success in regards to search, rescue and defense operations. In less than a year we have sold several units to the US Army Corps of Engineers, answered multiple solicitations for electric vehicles, and now begin our journey into larger funded development programs to help advance future technologies by bridging commercial and government sectors," Tannery continued.
The eTHOR prototype, a project funded by the Operational Energy Capability Improvement Fund (OECIF), is an integrated, electric, unmanned mobile power station built by DD DANNAR LLC; coupled with Innovation, Connectivity & Experimentation (ICE), provides a high speed, high bandwidth, low latency, 5G capable platform developed by AWS. eTHOR's electric vehicle provides agility, traditional fuel independence, and the ability to store, transport and export power. Its communications capacities combine 5G, 4G LTE, SatCom, and mesh networking with secure cloud computing and forward edge processing. Will Berry, of CANA LLC, who leads the project management and strategic partnership efforts, had this to say: "The demonstration this week is a real validation of the vision, talents, and innovative efforts of the partners. It's also a critical time to gather data for further testing and evaluation; we want to show how eTHOR can transform military operations in a tangible way. What's exciting is that we're not planning for some time in the future - eTHOR is here now."
"The application of electrification doesn't stop at civilian mobility. The benefits of EV technology are as applicable to the warfighter's needs as they are to humanitarian relief efforts, especially considering technologies can be paired with our vehicles as a force multiplier in either scenario," commented Jordan Davis, Volcon Chief Executive Officer. "We believe the possibilities to support our military, as well as the NGO community with mobility solutions, is only beginning. Our work with AWS and others on the eTHOR program will serve as a proof of concept of what we believe will be continued expansion into these new sectors."
Also present during the week of live, onsite, demonstrations in June were eTHOR stakeholders from across the US Marine Corps, and commercial integrators from Athonet, Digital Force Technologies, Moxion, and Renewable Equipment. This is one example of the many applications for which electric vehicles are being used to explore opportunities outside of conventional public sector operations and contracts, expanding their pallet of tools and allowing for more rapid procurement for situations when it matters most.
About Volcon, Inc
Based in the Austin, Texas area, Volcon was founded as the first all-electric powersports company producing high-quality and sustainable electric vehicles for the outdoor community. Volcon electric vehicles are the future of off-roading, not only because of their environmental benefits, but also because of their near silent operation, which allows for a more immersive outdoor experience.
Volcon's 2023 vehicle roadmap includes both motorcycles and UTVs hitting the market in North America. Its first product, the innovative Grunt, has been shipping to customers since late 2021 and combines a fat-tired physique with high-torque electric power and a near-silent drive train. Volcon just announced the launch of the Grunt EVO, an evolution of the original Grunt with a belt drive, an improved suspension and seat. Volcon also just announced the launch of the Runt LT, which is a fun-sized version of the groundbreaking Grunt, is better suited for small statured riders, more compact properties and trails, or as a pit bike at race events, while still delivering robust off-road capabilities. The Brat is Volcon's first foray into the wildly popular eBike market for both on road and off-road riding and is currently being delivered to dealers across North America. Volcon is also launching and currently delivering the Volcon Youth Line of dirt bikes for younger riders between the ages of 4 to 11. Volcon recently launched the Stag and entered the rapidly expanding UTV market. The Stag empowers the driver to explore the outdoors in a new and unique way that gas-powered UTVs cannot. The Stag offers the same thrilling performance of a standard UTV without the noise (or pollution), allowing the driver to explore the outdoors with all their senses.
Volcon Contacts:
For Media: media@volcon.com
For Dealers: sales@volcon.com
For Investors: investors@volcon.com 
Volcon Products:
Volcon Stag: https://www.volcon.com/stag
Volcon Brat: https://www.volcon.com/brat
Volcon Grunt: https://www.volcon.com/grunt-evo
Volcon Runt: https://www.volcon.com/runt-lt
Volcon Youth Line: https://www.volcon.com/youth
Forward-Looking Statements
Some of the statements in this release are forward-looking statements, which involve risks and uncertainties. Forward-looking statements in this press release include, without limitation, whether the Company can begin production of the Stag to meet the purchase requirements of AWS and whether those units will result in future sales opportunities to federal and state entities. Although the Company believes that the expectations reflected in such forward-looking statements are reasonable as of the date made, expectations may prove to have been materially different from the results expressed or implied by such forward-looking statements. The Company has attempted to identify forward-looking statements by terminology including ''believes,'' ''estimates,'' ''anticipates,'' ''expects,'' ''plans,'' ''projects,'' ''intends,'' ''potential,'' ''may,'' ''could,'' ''might,'' ''will,'' ''should,'' ''approximately'' or other words that convey uncertainty of future events or outcomes to identify these forward-looking statements. These statements are only predictions and involve known and unknown risks, uncertainties, and other factors. Any forward-looking statements contained in this release speak only as of its date. The Company undertakes no obligation to update any forward-looking statements contained in this release to reflect events or circumstances occurring after its date or to reflect the occurrence of unanticipated events. More detailed information about the risks and uncertainties affecting the Company is contained under the heading "Risk Factors" in the Company's Annual Report on Form 10-K and subsequently filed Quarterly Reports on Form 10-Q and Current Reports on Form 8-K filed with the SEC, which are available on the SEC's website, www.sec.gov.
A photo accompanying this announcement is available at https://www.globenewswire.com/NewsRoom/AttachmentNg/d4a1b298-751e-4a84-8a13-aa02fb3fec6e

Source: Volcon, Inc.

Released July 5, 2023