Volcon Announces Additional Trim Levels and Options for Stag Ahead of October Production Launch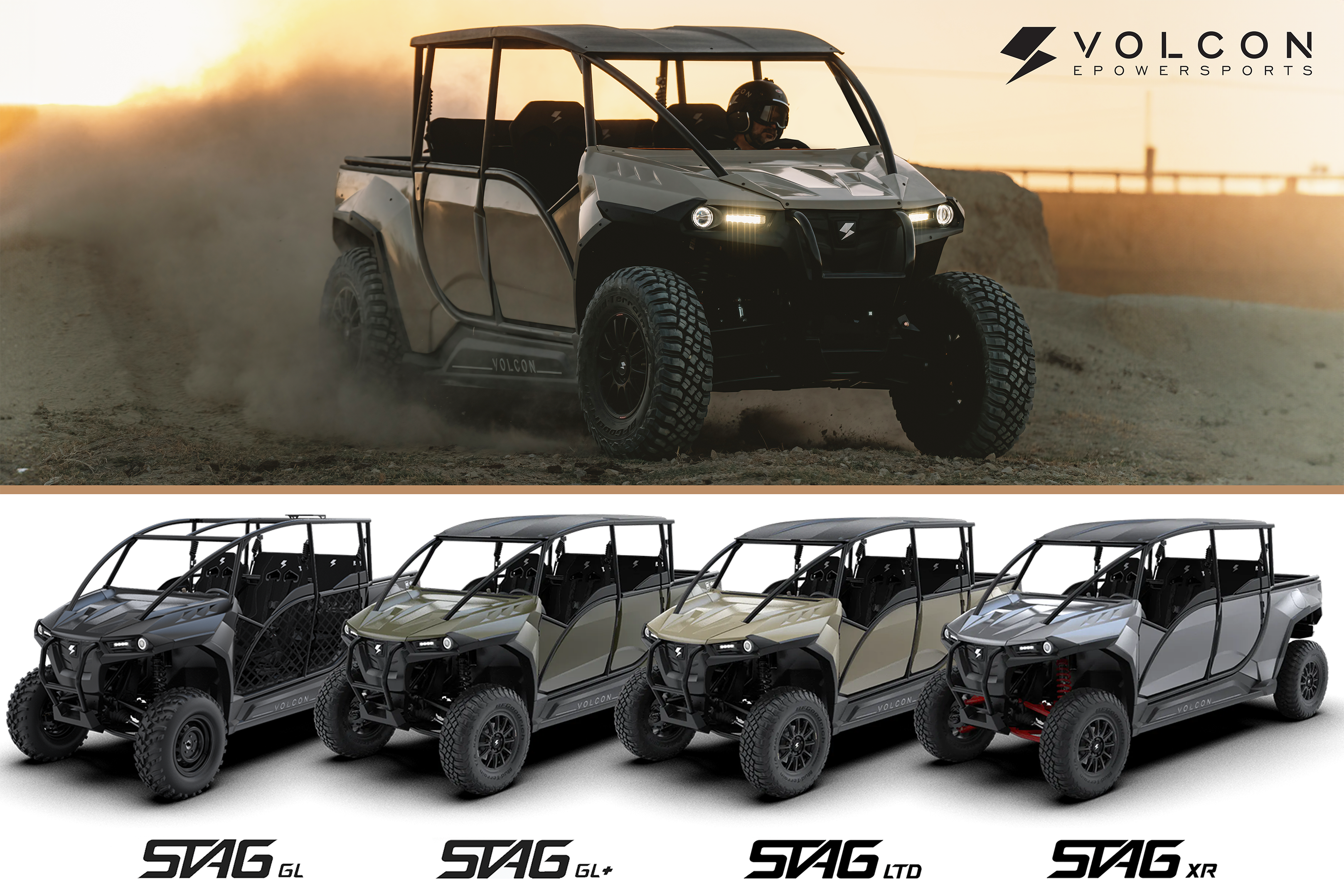 AUSTIN, Texas, Sept. 13, 2023 (GLOBE NEWSWIRE) -- Volcon Inc. (NASDAQ: VLCN) ("Volcon" or the "Company"), the first all-electric, off-road powersports company, announced today an expansion of the Stag UTV lineup to include a Limited Edition (LTD) trim and three additional trim levels of the Company's flagship product. The new trim levels provide a wider array of options and price points, which the company believes will meet the needs and budgets of a broader base of customers, including off-road enthusiasts, fleet managers, government entities, and those looking for additional outdoor recreation opportunities.
The new trim levels include the Stag GL, Stag GL+, Stag Limited Edition (LTD) and the Stag XR Performance. The GL and GL+ trim levels utilize automotive grade battery components that have been repackaged specifically for the Stag, allowing Volcon to extend the life of lithium that has already been sourced while retaining a high level of off-road performance. The GL trim will offer the more cost conscious, utility-focused customer an affordable option to electrify their fleet, job site, or outdoor activities. The GL+ provides additional horsepower, upgraded options, and crosses the boundaries between work and play. The Stag LTD and XR Performance lean into high performance, including upgrades in battery capacity and horsepower, taking the Stag to class leading levels of off-road performance and capability.
"The automotive and powersports industries have gone through substantial changes over the last few years. A major contributing factor has been global supply issues as a result of the pandemic, in addition to the general demand for EV's increasing as OEMs are encouraged to produce electric options. This creates very specific challenges for a mature industry, and for a new OEM like Volcon, it's been particularly complex to address," said Jordan Davis, Chief Executive Officer of Volcon. "We believe that by offering a broader range of best-in-class electric UTVs, we are meeting the challenges head on. Not only are we offering customers a wider range of price points which offers more affordable solutions to cost conscious customers, but we are working on diversifying our supply chain to address the rising costs of EV components," Davis continued.
The Company will be launching the Stag Limited Edition this week at the Sand Sport Super Show in Costa Mesa, California and encourages those who can to come see the Stag LTD in person from September 15 through the 17. To view the Stag LTD and all the latest trim level updates, visit the company website at www.volcon.com/stag.

About Volcon, Inc
Based in the Austin, Texas area, Volcon was founded as the first all-electric powersports company producing high-quality and sustainable electric vehicles for the outdoor community. Volcon electric vehicles are the future of off-roading, not only because of their environmental benefits, but also because of their near silent operation, which allows for a more immersive outdoor experience.
Volcon's 2023 vehicle roadmap includes both motorcycles and UTVs hitting the market in North America. Its first product, the innovative Grunt, has been shipping to customers since late 2021 and combines a fat-tired physique with high-torque electric power and a near-silent drive train. The Volcon Grunt EVO, an evolution of the original Grunt with a belt drive, an improved suspension and seat, is expected to begin shipping to customers in September 2023. Volcon also announced the launch of the Runt LT in the fourth quarter of 2023. The Runt LT is a fun-sized version of the groundbreaking Grunt, is better suited for small statured riders, more compact properties and trails, or as a pit bike at race events, while still delivering robust off-road capabilities. The Brat is Volcon's first foray into the wildly popular eBike market for both on road and off-road riding and is currently being delivered to dealers across North America. Volcon is also currently delivering the Volcon Youth Line of dirt bikes for younger riders between the ages of 4 to 11. Volcon debuted the Stag in July 2023 and entered the rapidly expanding UTV market. The Stag empowers the driver to explore the outdoors in a new and unique way that gas-powered UTVs cannot. The Stag offers the same thrilling performance of a standard UTV without the noise (or pollution), allowing the driver to explore the outdoors with all their senses.
Volcon Contacts:
For Media: media@volcon.com
For Dealers: sales@volcon.com
For Investors: investors@volcon.com

Volcon Products:
Volcon Stag: https://www.volcon.com/stag
Volcon Brat: https://www.volcon.com/brat
Volcon Grunt: https://www.volcon.com/grunt-evo
Volcon Runt: https://www.volcon.com/runt-lt
Volcon Youth Line: https://www.volcon.com/youth

Forward-Looking Statements
Some of the statements in this release are forward-looking statements, which involve risks and uncertainties. Forward-looking statements in this press release include, without limitation, whether the Company can begin production of the Stag to meet expected deliveries to customers beginning in October 2023, whether production of the Grunt EVO and delivery to customers will occur in September 2023 and whether production of the Runt LT will occur in the fourth quarter of 2023. Although the Company believes that the expectations reflected in such forward-looking statements are reasonable as of the date made, expectations may prove to have been materially different from the results expressed or implied by such forward-looking statements. The Company has attempted to identify forward-looking statements by terminology including ''believes,'' ''estimates,'' ''anticipates,'' ''expects,'' ''plans,'' ''projects,'' ''intends,'' ''potential,'' ''may,'' ''could,'' ''might,'' ''will,'' ''should,'' ''approximately'' or other words that convey uncertainty of future events or outcomes to identify these forward-looking statements. These statements are only predictions and involve known and unknown risks, uncertainties, and other factors. Any forward-looking statements contained in this release speak only as of its date. The Company undertakes no obligation to update any forward-looking statements contained in this release to reflect events or circumstances occurring after its date or to reflect the occurrence of unanticipated events. More detailed information about the risks and uncertainties affecting the Company is contained under the heading "Risk Factors" in the Company's Annual Report on Form 10-K and subsequently filed Quarterly Reports on Form 10-Q and Current Reports on Form 8-K filed with the SEC, which are available on the SEC's website, www.sec.gov.

Source: Volcon, Inc.

Released September 13, 2023