Volcon ePowersports Announces Cooperative Research and Development Agreement with the United States Army Engineer Research and Development Center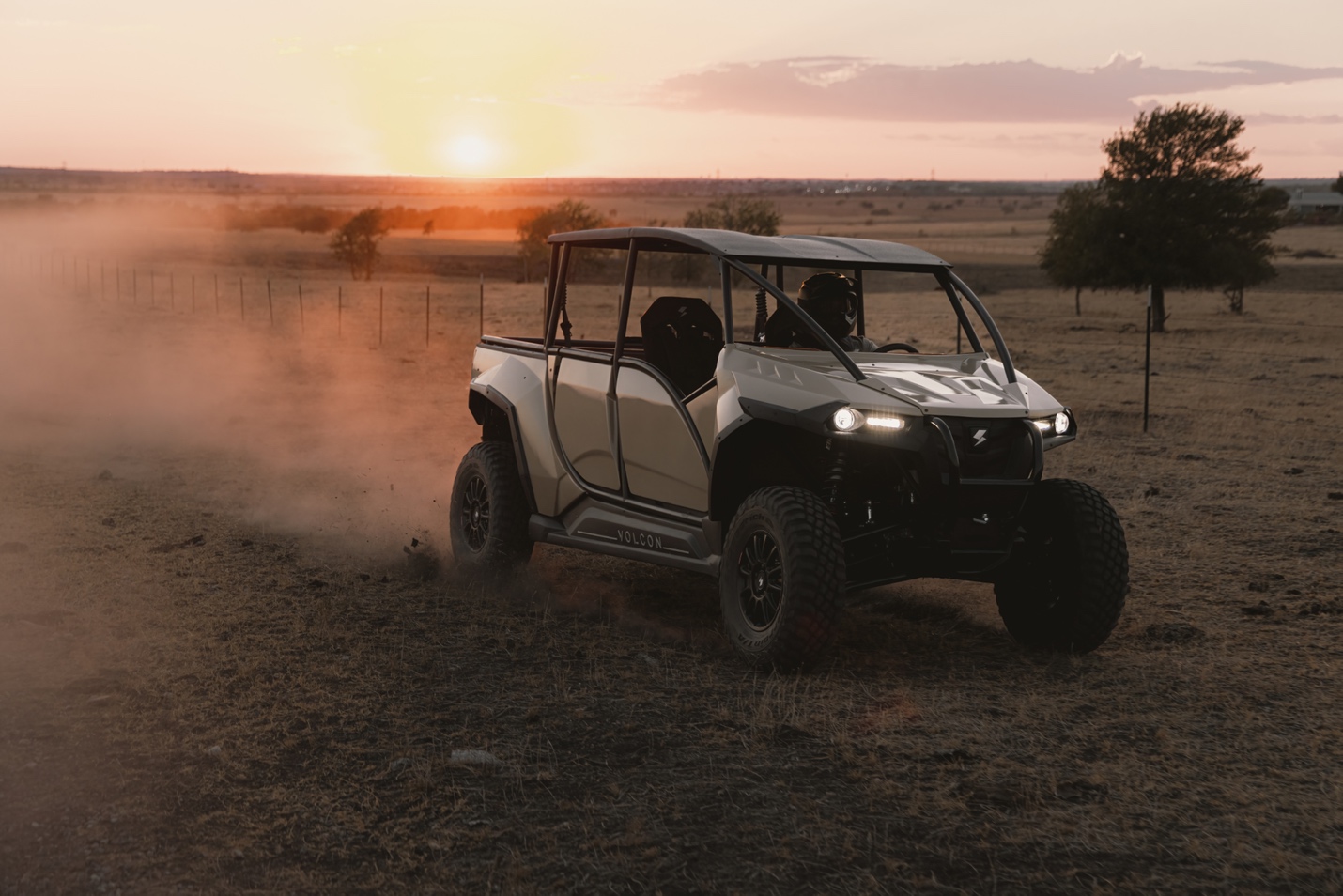 AUSTIN, Texas, Oct. 10, 2023 (GLOBE NEWSWIRE) -- Volcon Inc. (NASDAQ: VLCN) ("Volcon" or the "Company"), the first all-electric, off-road powersports company, announced today the signing of a Cooperative Research and Development Agreement (CRADA) with the United States Army Engineer Research and Development Center, Construction Engineering Research Laboratory (ERDC). Volcon believes this collaboration marks a significant step forward in the development of EV technology for both civilian and military applications.

Under the terms of this CRADA, Volcon and ERDC will collaborate on research and development efforts aimed at enhancing the capabilities of electric vehicles, with a focus on creating dual-use products that benefit both warfighters and the U.S. Army Corps of Engineers (USACE) in their support of emergency services disaster response.
Key objectives of this collaboration include:
Energy Management: Volcon will provide technical expertise to improve energy management in electric vehicles, including measurement, monitoring, range extension, and export power processes and procedures.

Compatibility with Microgrid Technology: The collaboration will work to ensure compatibility with emerging microgrid and electrical infrastructure technologies to create scalable solutions that enhance the adaptability of off-road EVs.

Enhanced Tactical Ground Vehicles: Volcon aims to develop enhanced tactical ground vehicle applications to support soldiers and emergency responders in their missions.

Government Fleet Electrification: The collaboration aligns with the 2022 U.S. Army Climate Strategy and Executive Order 14057, supporting government fleet electrification from the present through 2050.

This agreement represents a significant step toward addressing known challenges in the EV sector, such as remote tactical recharging, vehicle-to-grid, and microgrid charging, and looks to maximize power efficiency while reducing reliance on traditional fuel-based energy generation.

By working together with ERDC, Volcon aims to create scalable EV solutions that benefit federal, state, and local governments, as well as the Department of Defense (DoD). This collaboration embodies the spirit of the Federal Technology Transfer Act of 1986 and Army Regulation 70-57, which encourage the private sector to leverage federally funded technology developments for the betterment of the United States.

"We are very excited to be working with the Army Corps. We believe that their decades of experience in engineering solutions for the battlefield will bear real fruit for Volcon in the commercial markets. This agreement is crafted in a way that mutually benefits the parties by creating real-world solutions and product features that can be monetized in the future," said Jordan Davis, Volcon CEO. "On the one hand, we get to play a real role in benefiting the warfighter and humanitarian efforts where our electric vehicles can play a role, all while harvesting technology that may be deployed to commercial segments as well."

Volcon ePowersports is excited about the potential this collaboration holds for the future of the Company, electric vehicle technology in general, and its broader applications. Together with ERDC, the Company looks forward to advancing the state of the art in EV technology and contributing to a more sustainable and efficient future.

About Volcon, Inc
Based in the Austin, Texas area, Volcon was founded as the first all-electric power sports company producing high-quality and sustainable electric vehicles for the outdoor community. Volcon electric vehicles are the future of off-roading, not only because of their environmental benefits but also because of their near-silent operation, which allows for a more immersive outdoor experience.
Volcon's vehicle roadmap includes both motorcycles and UTVs. Its first product, the innovative Grunt, began shipping to customers in late 2021 and combines a fat-tired physique with high-torque electric power and a near-silent drive train. The Volcon Grunt EVO, an evolution of the original Grunt with a belt drive, an improved suspension and seat, began shipping to customers in September 2023. Volcon will also offer the Runt LT, a fun-sized version of the groundbreaking Grunt, better suited for small-statured riders, more compact properties and trails, or as a pit bike at race events, while still delivering robust off-road capabilities. The Brat is Volcon's first foray into the wildly popular eBike market for both on road and off-road riding and is currently being delivered to dealers across North America. Volcon is also currently delivering the Volcon Youth Line of dirt bikes for younger riders between the ages of 4 to 11. Volcon debuted the Stag in July 2023 and entered the rapidly expanding UTV market and previously announced that it will begin shipping the Stag to customers in October 2023. The Stag empowers the driver to explore the outdoors in a new and unique way that gas-powered UTVs cannot. The Stag offers the same thrilling performance of a standard UTV without the noise (or pollution), allowing the driver to explore the outdoors with all their senses.
About United States Army Engineer Research and Development Center
The U.S. Army Engineer Research and Development Center (ERDC) is one of the most diverse engineering and scientific research organizations in the world and serves as the research and development arm of the U.S. Army Corps of Engineers. With seven laboratories in four states and a workforce of more than 2,330 employees, ERDC conducts research and development in support of the warfighter, military installations and the U.S. Army Corps of Engineers civil works mission, as well as for other federal agencies, state and municipal authorities and with U.S. industries through innovative work agreements.
Volcon Contacts:
For Media: media@volcon.com
For Dealers: sales@volcon.com
For Investors: investors@volcon.com
Volcon Products:
Volcon Stag: https://www.volcon.com/stag
Volcon Brat: https://www.volcon.com/brat
Volcon Grunt: https://www.volcon.com/grunt-evo
Volcon Runt: https://www.volcon.com/runt-lt
Volcon Youth Line: https://www.volcon.com/youth

Forward-Looking Statements
Some of the statements in this release are forward-looking statements, which involve risks and uncertainties. Forward-looking statements in this press release include, without limitation, whether the Company can begin production of the Stag to meet expected deliveries to customers beginning in October 2023, and whether production of the Runt LT will occur. Although the Company believes that the expectations reflected in such forward-looking statements are reasonable as of the date made, expectations may prove to have been materially different from the results expressed or implied by such forward-looking statements. The Company has attempted to identify forward-looking statements by terminology including ''believes,'' ''estimates,'' ''anticipates,'' ''expects,'' ''plans,'' ''projects,'' ''intends,'' ''potential,'' ''may,'' ''could,'' ''might,'' ''will,'' ''should,'' ''approximately'' or other words that convey uncertainty of future events or outcomes to identify these forward-looking statements. These statements are only predictions and involve known and unknown risks, uncertainties, and other factors. Any forward-looking statements contained in this release speak only as of its date. The Company undertakes no obligation to update any forward-looking statements contained in this release to reflect events or circumstances occurring after its date or to reflect the occurrence of unanticipated events. More detailed information about the risks and uncertainties affecting the Company is contained under the heading "Risk Factors" in the Company's Annual Report on Form 10-K and subsequently filed Quarterly Reports on Form 10-Q and Current Reports on Form 8-K filed with the SEC, which are available on the SEC's website, www.sec.gov.
A photo accompanying this announcement is available at https://www.globenewswire.com/NewsRoom/AttachmentNg/a0cb445c-24f5-4dac-aab6-8ff8f0fed708

Source: Volcon, Inc.

Released October 10, 2023